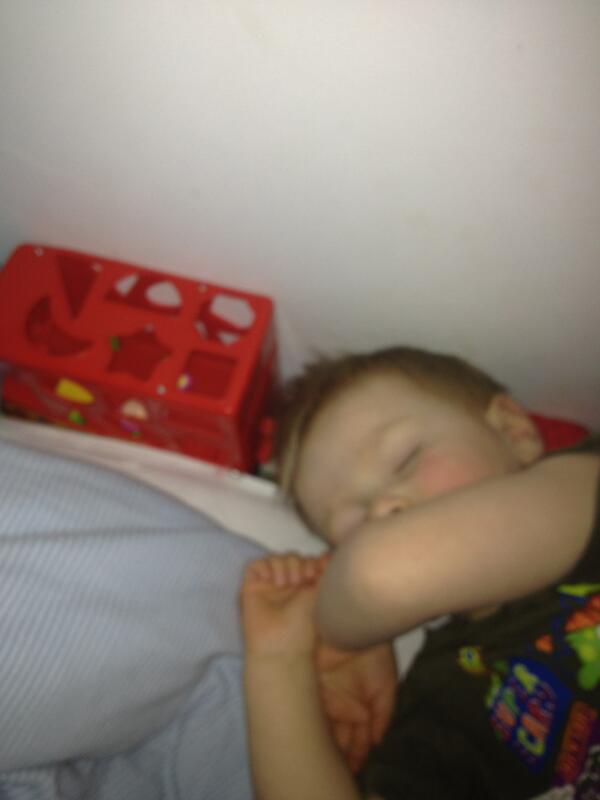 Last week middle man had had his best friend over for tea as a late birthday celebration. He had eaten too much sugar and didn't want to sleep. I should have known that it was going to be a taxing bedtime when we were reading his bedtime story. His new favourite book is Pants. We are positively encouraging this book in a hope that one day he will actually ditch his beloved
nappies
and wear some himself. We chose nappies for big man, Daddy, me and even baby man (the nappy pants of course.)
On the basis that middle man spends most of his day ignoring or stealing toys off baby man, this was clearly a delaying bed time tactic.
I tucked him in and a few mins later he was up. "I've lost my pig!" Yes he has taken to adding a large shape sorting pig to his
roll call
of soft toys.
"I've lost my bus!."
Back upstairs I trek to find his shape sorting bus right next to his bed. I tucked him in again along and wished him goodnight. I could then hear him playing in his room. As big and baby man had only just gone to bed themselves, I decided to leave him a bit longer in a hope not to wake them. Afterall, I could hear him learning phonics, so at least it was educational!
Clump flunk flunk he slid down the stairs on his bum. I looked up. "I need some glue."
"Why?" I asked.
"For my bed."
Er no" I replied, wondering what DIY projects he had decided were necessary at 7.30pm. He walked into the kitchen. "I have a surprise!" he shouts as he bounds in ,
"Grapes!"
Finally after he had managed to quickly get a few grapes in his mouth, he went upstairs to bed.
What distraction tactics do your little ones have at bedtime? Are you up and down the stairs trying to put your little one to bed, or do they fall asleep the moment their head hits the pillow?
Linking to
Actually Mummy
where you will find some more #funee posts