Dear Santa
My name is Louise and I am 40 years old. I have been a very good girl this year. I tidy the house, cook dinner (nearly) every day and have made it to every one of my children's school plays, parents evenings and assemblies without falling asleep.
Thank you for my presents last year. They were really nice. I thought you might like an idea of what I would like this year. I have tried to make things as simple as possible for you and the elves and have chosen the items from
Debenhams
. I know that you are really busy at this time of year making toys and that sometimes arranging a home delivery might just be easier for you.
I love a
Christmas jumper
and really don't think you can have enough of them. I am particularly keen on polar bears this year so that would be great. Do you have polar bears where you live? I am thinking they would scare (or worse eat) the reindeer?
Just like your dear wife Mrs Claus, I enjoy baking. I love this
3 tiered cake
stand and am sure that we could leave you a few extra mince pies out on it. That is, if I can convince the boys that you don't want
cucumber and houmous this year.
They really do worry that you have too many mince pies and gingerbread men to eat. I don't think they realise that you share them with the elves!
I am planning on doing more
vlogging
this year, so a
make up set
would be good. I need something to hide my tired eyes!
I also love Lego. I was so excited when middle man started enjoying building. However, now he is a "master builder" he has downgraded me to "tricky piece finder." It has been a knock to my confidence and I would love a set of my own to build. Anyone would be fine, but I do particularly like the
Ghostbusters one.
Last but not least, I love my coffee. Infact some days it is the only thing that makes me get up! We all have our vices don't we? I would love a capsule one if possible and I can't resist this
cute mug
.
I hope that Christmas is all coming together for you. You might like to add these
port glasses
onto your order for yourself. I bet you like a small glass after your busy night. I will ask the boys to leave their stockings outside their rooms as they are really light sleepers and I don't want you waking them. I will send the burglar alarm code through private message as we don't want you setting off that. It would scare the reindeer! Oh and I do have one small confession. I may have eaten some of the boys "trick or treating" stash, but I promise I will try harder next year.
Best wishes and a very Merry Christmas!
Louise
P.S. Apologies about middle man's drawing of you on the Christmas card. I think your trousers had got dirty down the chimney and were in the wash. He is certainly not making any slanderous allegations against you.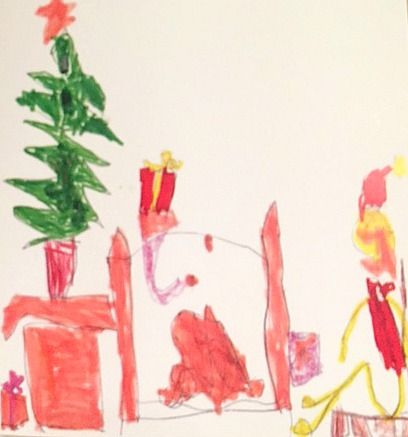 Santa warms himself by the fire whilst his sooty trousers are washed.