Looking through my Twitter feed, you would think that my husband and I are the most unromantic people on the earth. We don't buy expensive presents on Valentine's Day. We don't even buy each other cards. 

We tend to just cook a meal, turn the TV off, put the phones away and have a chat.

I do some heart themed things for the boys for a bit of fun. I've made hidden heart cupcakes and heart cake pops and they will be excited to find some heart shaped marshmallows come February 14th.
This year however, Hartley's jam have challenged me to make breakfast for my husband and sent me some heart shaped goodies.

I met my husband at University and one thing I learnt about him was his love of cheese. Every evening he would have a slice of toast with jam and cheese. Personally I don't get the combination but strangely it's something my Dad likes too!

So here is the "Hart" felt breakfast for my husband on Valentine's Day.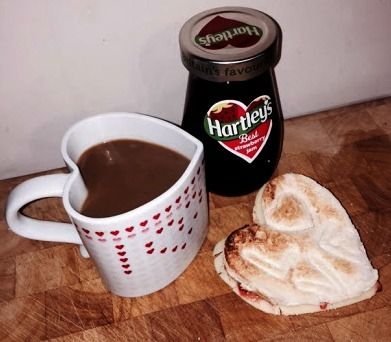 Obviously, this one wasn't for my husband and I can confirm that little man is a fan of the cheese and jam combo too!

Cut 2 slices of bread using a heart shaped cutter. Toast, add butter, Hartley's strawberry jam and a heart shaped slice of cheese. Serve with a strong coffee (as it helps my husband get through the day too!) 
What do you do to celebrate Valentine's Day?