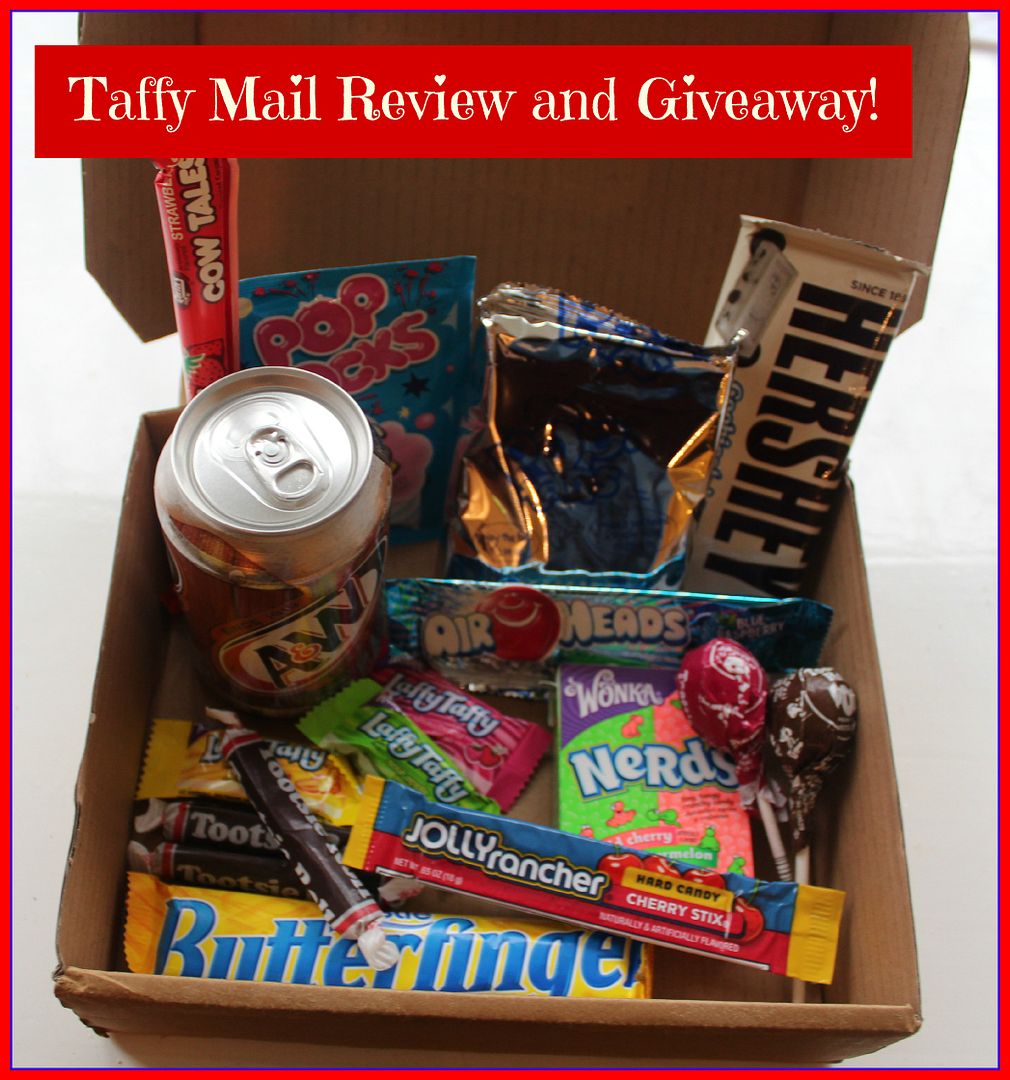 This month we were sent a box from
Taffy Mail
to review. The idea is that you are sent a box of American candy to your door. It costs £14.99 for a one off box including delivery within the UK and a 3 month subscription costs £39.99. Above is the box that we received. It contained: 3 x tootsie rolls, Jolly rancher cherry stix, Butterfinger bar, 3 x laffy taffy, Nerds, 2 x tootsie lollies, 1 packet of pop tarts, Airheads bar, cow tales, cotton candy, Hershey's cookies and cream bar and a root beer.
Personally, I would use this kind of subscription box as a gift for someone and couldn't help think that a piece of tissue in the box would make it look so much nicer. The boys, however, were just excited that there were sweets in it that they could try!
Unsuprisingly they were very keen on the Hersheys cookies and cream.
Little man tried one of the taffy roll lollies and was extremely confused by a chewy centre. I must say that I really enjoyed the Pop Tarts. I know you can buy them in the UK, but I don't as I would eat them all the time and it was nice to have them in this box of treats. Big man enjoyed sharing the Butterfinger bar with me, before I read the number of calories it contained and nearly had a heart attack on the spot!
I think that the Taffy Mail is a nice idea as a gift and would be good for a teenager/someone who has everything. There was a variety of sweets to try along with a can of root beer, some we liked and some we didn't but it was a change from your standard UK chocolates and was fun for a change. You can order a
subscription here.
They have also kindly offered the chance for one of my readers to win a box of their own. Just complete the Raffleocpter below. Good Luck!
a Rafflecopter giveaway
Open to UK residents over the age of 18 only Entries will be moderated, so please make sure that you comment if necessary. There is one prize of box of sweets from Taffy Mail. No cash alternative. No bulk or automated entries. If you have already won the prize on a separate blog giveaway with the same promoter they reserve the right to redraw a new winner. The winner will be chosen randomly. The winner will be notified by email (make sure you leave your contact details) and will have until 3rd Feb to respond with their address. If they fail to respond a new winner will be drawn. No PO Box address Competition closes on 3rd Jan at 12.00am .
To view all my
Christmas Giveaways click here.
- See more at: http://www.theprizefinder.com/content/box-taffy-mail#sthash.5HyjzDfn.dpuf